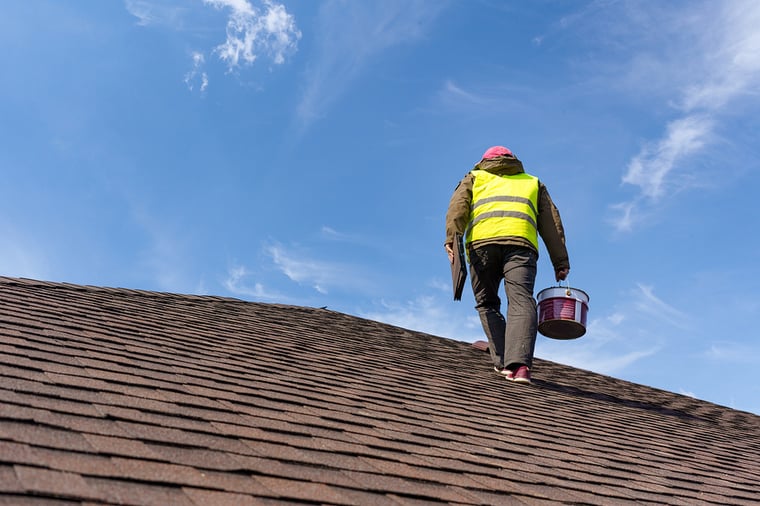 Face it, breaking out your checkbook to pay for replacing your home's roof isn't something you really want to do. With the average cost of a new roof hovering just above $7,000, installing a new roof is a big deal! Anything you can do to help take care of your roof makes a lot of financial sense.
The best way to protect your current roof is by catching small issues before they can grow into bigger ones. Establishing a regular schedule of roof inspections and preventive maintenance can help.
But My Roof is Fine, Right?
Many homeowners wonder if they are doing enough to maintain their roofs. The honest answer is probably not.
Unfortunately, routine home maintenance is something most of us tend to put off as long as possible; then wind up scratching our heads wondering as to why something 'suddenly' breaks. Waiting until significant damage occurs is a huge mistake, as it can force you to replace the entire roof over your head!
This short article will walk you through some of the clear signs it may be in your best interest to call your local roof repair service before it is too late, along with other general roof inspection tips.
How Often Do I Need to Inspect My Roof?
There are three different levels of roof inspections, beginning with the casual once over and going all the way up to the end-to-end inspection by a professional roofer.
Casual inspections are not too involved. They don't require dragging out a ladder or even heading up to the attic. Just a quick walk around your home every few weeks with an eye out for anything that seems out of the ordinary will be plenty.
The next level of inspection is one in which you suspect there might be damage to the roof. You may want to do this type of inspection following a particularly nasty storm, or when you have been away from your home for a while. This type of inspection usually requires an attic walkthrough and a closer examination of the gutters and downspouts.
The most intense inspection should be annually or at least every three years for roofs with asphalt, composite and wooden shingles; or every five years for tile shingles. Of course, it is always a good idea to inspect the roof before buying a new home. Unless you have experience with roof inspections, this type of inspection is best left for a roof repair service expert to conduct.
Five Things You Need to be on the Look Out for When It Comes to Your Roof
Here are five things you or a roof repair service should be doing now, as this allows you to put off installing a new roof until later.
Look for potential impact damage risks. One storm is all it takes to ruin your roof. That is why you need to make sure there are no overhanging tree limbs or other possible hazards. It is easy to make a visual inspection from the ground. If you notice any issues, you need to take care of them as soon as possible. That may include contacting your neighbor or even your local officials if the tree is not on your own property. It is a good idea to hire a professional to handle any tree trimming.
Make sure that your roof looks smooth and level. Even if you are unable to get up on the roof, you should be able to quickly tell if there are any unlevel areas of your roof while you are standing safely on the ground. These dips and buckles are typically caused by a critical issue such as leaks, impacts, or structural damage and need addressing as soon as you can by a professional. Call your local roof repair service immediately.
Check under the roof as well. Damage isn't always visible from the top of your roof, some of it may be hiding below. Peeling or cracked paint under the eaves and along the roofline of your home may indicate water damage and a possible leak. You will need to physically inspect the area to see if there is water damage. Inside your home, go to the attic and look up at the ceiling. Do you see any yellow, brown, or gray stains? Then moisture has probably penetrated inside due to a damaged roof. Other indicators for the need for immediate attention are damp or rotting rafters. Don't wait! Call a roof repair service when you first notice these issues to help stop the problem from growing!
Inspect your shingles. Depending on your home, getting a good look at your shingles may require climbing a ladder or gaining access to the roof itself. This is dangerous, and unless you have the proper experience, it is probably a good idea to let a professional handle this inspection. But if you can view your shingles safely, you want to check for loose, missing, broken or torn shingles. Homeowners with wooden shingles will also want to check for mold, mildew and other decay. A good roofer can repair small areas of damage to keep your entire roof from failing.
Examine other parts of the roof. There is much more to your roof than just the shingles. Complete roof inspections should always look at the flashing around your chimneys, gutters and downspouts to make sure they are secure and free from any damage.
Roof Maintenance is a Big Job, But You Don't Have to Do It Alone
Your roof is not something to play around with, which is why it makes sense to work with a professional roofing repair service.
First Quality's Preferred Maintenance program gives you peace of mind of knowing your roof is being looked after properly. The Preferred Maintenance program offers homeowners:
Roof inspection

Broken tile replacement

Drains and gutter cleaning

Sealing

And so much more!
Call First Quality Roofing & Insulation at 702-262-7847 to speak with a roof repair service pro today!