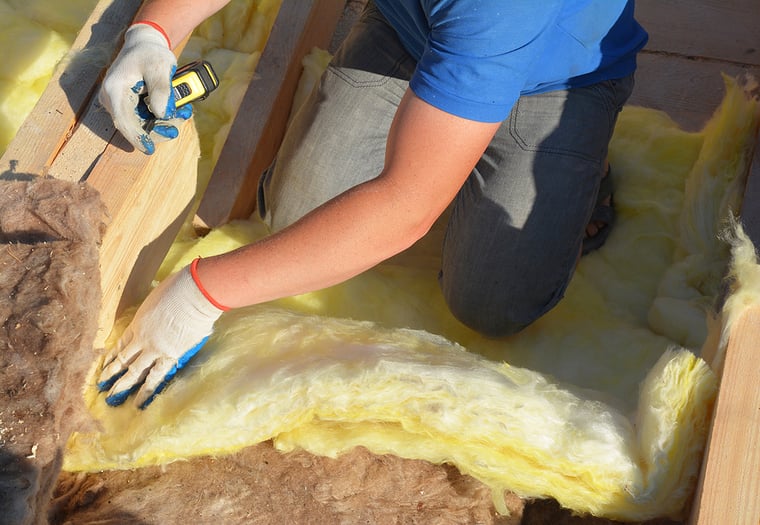 Cooling a home in Las Vegas can be challenging due to the extreme heat in the summer. Insulating the attic, garage door, piping, and seal joists keeps your home comfortable and increases its energy efficiency. Since cooling and heating make up to 70% of your home's energy use, the proper amount of insulation is crucial. Too little attic insulation leads to air leaks that waste a ton of energy. But did you know it's possible to have too much insulation in your home?
Diminishing Returns
You've probably heard that each additional inch of insulation you install saves energy. With each additional inch, though, the amount you save diminishes. So, at some point the cost of adding more insulation no longer makes financial sense. Still, when energy prices go up, we're often asked if more insulation will help bring down the monthly utility bill.
The truth is more insulation is not always the best solution. Why? Because even though more can often be a good thing, an over-insulated home can become too tightly sealed. The result is moisture that gets trapped inside, especially in the attic. Mold may then become a problem and your home's indoor air quality suffers. Does this mean if there's mold in your house that it's over insulated? No. In fact, most homes are under insulated so mold may occur due to a malfunctioning HVAC system, leaking pipe, or broken sump pump.
Too Little, Too Much or Just Right?
Getting insulation right helps you save money throughout the year by maintaining a proper indoor temperature without overworking your HVAC system. The "just right" amount of insulation also helps:
Maximize energy efficiency

Reduce noise between your home's levels and rooms

Boost healthier indoor air quality
For optimal efficiency, proper home insulation is needed from the foundation up to the roof.
Unfinished attic spaces should have insulation between and over the floor joists. You may also want to consider insulating the rafters.
Finished attic rooms should also be insulated between the studs and at the ceiling.
All exterior walls, including those adjacent to an unheated garage, storage areas and foundation walls in heated basements and above ground level.
Vented crawl spaces and unheated garages.
Band joists.
Storm windows.
First Quality specializes in attic insulation and radiant barrier insulation. To determine if you have enough attic insulation, we'll measure the existing insulation's thickness. If it's less than the equivalent of R-30, adding more is recommended. Radiant barrier insulation will also help you keep your home cool in summer and reduce your electric bill.
Duct Insulation
Any ducts in unconditioned spaces should be sealed and insulated. For new construction, place the ducts in the conditioned space so to avoid common duct system energy losses.
Cathedral Ceilings
Proper insulation keeps ceiling and room temperatures more on par and help provide even temperature distribution throughout your home.
Exterior Wall Insulation
If your attic has sufficient insulation and proper air sealing but you still feel drafts in the winter or are too warm in the summer, you might need to add insulation to the exterior walls. Existing homes can use blow-in insulation that can be added to exterior walls without too much disturbance to finished areas. If you're replacing your home's exterior siding, consider adding insulation at the same time.
Unheated Garage Floors
Before installing insulation in an unheated garage, all possible sources of air leakage should be sealed first. An added benefit to this step is keeping contaminants like paint, solvents, gardening, supplies, and car exhaust from entering the rest of the home.
Foundations
Properly insulated foundations not only help reduce heating costs, they prevent moisture problems, keep below-grade rooms more comfortable, and mitigate insect infestation.
Crawlspaces
What's considered proper crawlspace insulation depends on whether the space is ventilated or not. For homes with unventilated crawlspaces, the ideal approach is to insulate and seal the foundation walls which keeps piping and ductwork within the conditioned volume of the house.
Slab-on-Grade Insulation
Concrete slabs are cold and a source of discomfort in many homes. Insulated slabs are easier to keep warm and help keep indoor temperatures at a more even and comfortable level. Unfortunately, insulating an existing home's slab can be expensive, but it is possible to dig around a home's perimeter to install insulation. Doing so can reduce heating bills by up to 20%, so it's worth talking with an installer about whether this is a good option for your home.
Get Expert Attic Insulation from First Quality Roofing & Insulation
Do you have enough insulation in your Las Vegas home? Is there too much? Is it the right type? Are your monthly heating and cooling bills too high? Each home's insulation needs are different. The best way to find out what's right for you is to bring in an expert to look around and give you a professional opinion.
A qualified attic insulation expert can help you determine if your insulation is sufficient enough to keep your and your family comfortable all year long. When you schedule a attic insulation inspection with one of our professionals, we'll guide you through a comprehensive assessment and recommend any necessary services. Contact us today at 702-262-7847 for a free, no obligation evaluation of your home's insulation.