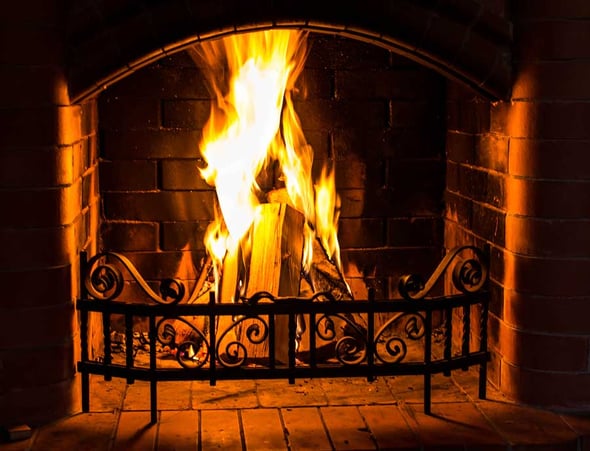 Santa may have left you a note, but then, you know the Big Guy. He had plenty of other things on his plate, and only some of them were cookies.
If he happened to forget, allow First Quality Roofing & Insulation to act as his surrogate: If your chimney hasn't been inspected yet this season, don't postpone making an appointment. You might well need a chimney sweep. First Quality has learned a great deal about chimney safety from both the Chimney Safety Institute of America and the National Fire Protection Association, and so we know: a chimney sweep could save your life.
A chimney sweep removes harmful substances
The purpose of a chimney sweep is to remove soot and creosote from your firebox, chimney liner, smoke chamber and damper. Creosote results from burning wood; it is the smoky residue that is left behind. It is a highly flammable substance, which makes it especially dangerous as it accumulates. It also acts as a drag on your fireplace, reducing its efficiency.
Since only a small buildup of creosote can trigger a chimney fire, a chimney sweep is your best line of defense. A sweep also will reduce the risk of carbon monoxide leaks and poisoning, and it will preserve the structural integrity of your fireplace.
Careful contractors proceed with skill
As chimney sweeps well know, the term alone can deter some homeowners from making an appointment, but it shouldn't. When you choose a reputable and credentialed chimney sweep, he will take steps to ensure that your home is protected from some of the mess that may ensue. For example, he should:
Move furniture away from your fireplace
Cover nearby furniture as an added precaution
Place a drop cloth on the floor in front of your fireplace
Lay down runners from the fireplace to your front or back door
Loosen and remove the soot and creosote with a shovel or professional-grade vacuum
Make a yearly inspection a priority
Like some Las Vegas homeowners, you might think that you don't use your fireplace often enough to justify a chimney sweep. But don't take chances. Take a flashlight and inspect your fireplace regularly anyway. The Chimney Safety Institute of America recommends that open masonry fireplaces should be "swept at 1/8-inch of sooty buildup, and sooner if there is any glaze present in the system."
Even in the absence of soot and creosote, the National Fire Protection Association recommends that homeowners schedule a yearly chimney inspection, saying:
"Chimneys, fireplaces, and vents shall be inspected at least once a year for soundness, freedom from deposits and correct clearances. Cleaning, maintenance and repairs shall be done if necessary."
In other words, it's worthwhile to preserve the integrity of your fireplace, which would require a major cash outlay to rebuild. At the least, an inspection will ensure that birds or other pests haven't built nests that could make your chimney unsafe to fire up.
In the course of a chimney inspection, problems with your roof might come to light. In this case, don't hesitate to reach out to First Quality. We'll do more than shine a light on the problem; we'll fix it, too.