Most homes have one: a room that looks small and worse, feels small, no matter how vigilant you are about keeping furniture to a minimum and reducing clutter.
This is when you know it's time to turn to some interior design experts, who know that certain surefire tips translate well to every room in a home. These tips aren't magic, but the result may feel magical by the time you make it even halfway down this list: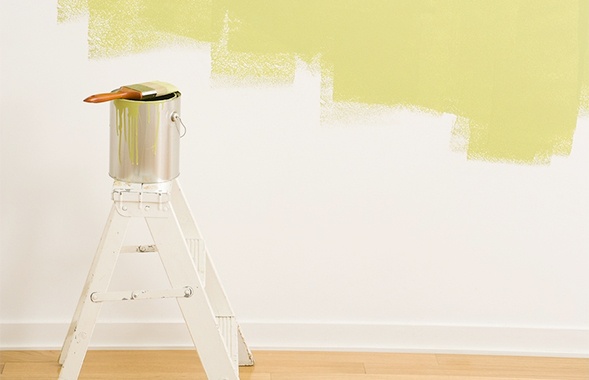 Choose color with care
Paint the walls a light color. Dark colors create a mood but make a room feel smaller, no matter how much natural sunlight filters in. Veer to ivory or cream, pale yellow or light gray.
Select a monochromatic color scheme. Small rooms simply don't have the same "canvas" as large rooms; competing colors can overwhelm them. Use colors in the same hue and mix up the accessories with various textures to add visual interest.
Choose light-colored flooring. Whether you favor carpet or tile, light colors work in tandem with paint to create a more expansive look.
Choose furniture with care
Stick with solid-color upholstery. Busy patterns (even florals) can make even the most tastefully decorated room appear visually chaotic. Solid colors look crisp and streamlined.
Consider glass furniture. You can see through them, so they're a natural choice for small rooms. Side and end tables are your go-to choices.
Opt for furniture with legs. You may not have even noticed how chairs and couches that "sit up" on the floor look...lighter on their feet. And that uplifting feeling will be contagious, making a room feel airier.
Look for multi-functional furniture. It may have started with ottomans that double as end tables (or was it the other way around?) or storage trunks that double as end tables. They look as good as they are smart.
Choose bookcases with care
Stretch to the ceiling. Floor-to-ceiling bookcases draw the eye to a room's height while preserving horizontal space. Even a narrow bookcase can create this magical touch.
Color-coordinate items on book shelves. This tip takes some planning, but the result is worth it. Organize the color of book spines and group like-colored accessories. Bookshelves can be wonderful design pieces, but cluttered shelves contribute to a closed-in feeling.
Choose other touches with care
Bring back a mirror. Even in a small room, an oversized wall mirror is a sure bet – just as mirrored sliding doors are in a bedroom. Alternatively, consider installing a wall of mirrors – or even a half-wall with wainscoting underneath.
Hang a sheer window treatment. Drapes and cornices can look dramatic, but they can overtake a room even more drastically than dark paint. Consign them to large rooms and hang a simple, see-through treatment that lets the sun in.
There's nothing like a home improvement project to get your heart pumping – and your eyes searching for the next project. When you're ready, turn to the Home Maintenance Checklist, courtesy of First Quality Roofing & Insulation. Download it and add another magical dimension to your home life.