If you're the type of person who waits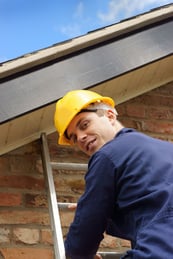 until you cannot walk, cannot talk, cannot eat or are doubled over in pain before you go to the doctor, then you're probably the type of person who delays home maintenance tasks, too.
If it's any consolation, plenty of people need a crisis to step into action. But any respectable doctor will tell you that you should put an annual physical exam high on your "to-do" list to extend your lifespan.
Likewise, the "roof doctors" at First Quality Roofing & Insulation will tell you that an annual roof inspection will extend the lifespan of your roof and detect small problems before they balloon into bigger, more costlier problems – and more painful ones, too. But just in case you're skeptical, consider eight other reasons an annual roof inspection conducted by the most trusted Las Vegas roof inspector will ensure the continued good "health" of your roof:
A roof inspection will detect leaks. Water damage never gets better or "goes away" on its own. Your roof forms the most important part of your home's "envelope"; the other parts include the subfloor, doors, windows and exterior walls. Water leaks can damage all of these components, not to mention your home's electrical system and valuables.
A roof inspection will assess damage from the outdoor elements. High winds, hail and rain can compromise the veracity of a roof, especially if it is approaching the 20-year mark.
A roof inspection will ensure that the slope is conducive to proper drainage. Standing water impugns the integrity of all the materials that hold your roof together. Drainage neglect is one of the main reasons some homeowners are forced to replace their roof well before that 20-year mark.
A roof inspection will ensure that your gutters are clear so that water drains from your roof as it should. Leaves and branches naturally accumulate in gutters, but if granules from shingles are part of the buildup, the discovery points up a much larger problem that must be remedied.
A roof inspection will assess how it is sustaining normal wear and tear. A conscientious Las Vegas roof inspector will look long and hard, inside and out, for sags and holes and will assess the condition of the shingles. If they're cracked, broken, loose or missing, a roof repair will restore your roof to better "health."
A roof inspection can uncover fire hazards. You might be surprised by what a Las Vegas roof inspector can find – everything from a buildup of branches and leaves to animal nests. Under the force of the Las Vegas summer sun, these elements can pose an extreme fire hazard.
A roof inspection will expose vegetation. Moss and other vegetation can weaken the structure of your roof unless it is removed and then thoroughly cleaned.
A roof inspection will enhance your sense of security. As unlikely as it may sound, enterprising thieves have been known to try to break into homes via roof hatches, skylights and other access points. A diligent Las Vegas roof inspector will secure them all.
Call First Quality Roofing & Insulation to schedule the most thorough "exam" in the state of Nevada: a 14-point roof inspection that will extend the life of your roof – and give you the peace of mind that no doctor could possibly plot on a medical chart.