One of the most common questions Las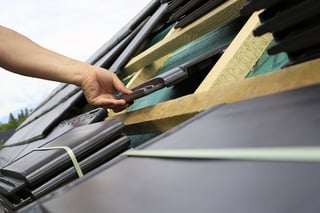 Vegas roofing companies receive from clients wanting to reroof their homes is whether shingles or tiles are a better choice. The truth is both of these materials make an excellent roofing choice; it all depends on what you are looking for in a roof. This comparison will help you make an informed decision about whether shingles or tiles are the better choice for your home's roof.
Durability
Shingles and tiles are both quite durable and able to withstand the elements. Replacing your home's roof is an investment you'll be able to enjoy for many years, but tiles typically last a lot longer than shingles. A shingled roof will need to be replaced in about 10 to 20 years, where tiles can last up to 50 years with proper maintenance.
Cost
Of course, the longer durability of tiles comes with an added cost. Generally, you can expect to spend 2 to 3 times more on a tiled roof than you would on shingles. When you do the math, this works out to a similar cost per year. The difference is you will be spending it up front with tiles, as opposed to spreading it out over time with shingles.
Appearance
Shingled roofs are popular due to their classic look that suits many different architectural styles. Shingles come in many different colors. There are also variations in how solid or variegated the color of the shingle is.
When a tiled roof is mentioned, the first thing many residents picture is a reddish-colored Spanish tile roof. While this is definitely a popular option, it is far from being the only style of tiles available. Tiles come in a wide variety of colors and shapes. There are tiles out there to match any style of architecture – from Old World charm to a sleek, modern look.
Weight
Tiles are significantly heavier than shingles, which may require a bit of special consideration. The additional weight can put added strain on your roof. Some structures may not be able to withstand this and others may require additional bracing to support the tiles. Las Vegas roofing companies will come evaluate your home's roof and structure to ensure it is able to support the weight of tiles.
Climate
Some shingles are made to reflect UV rays from the sun. Tiles, however, reflect even more rays, keeping your house much cooler during hot Vegas summers. Of course, other factors play into this as well – such as the color of your roof or how well shaded it is by trees.
In the end, if you want exceptionally long-lasting durability and performance, roofing tiles are the way to go. But if you are looking to save a bit of money, shingles are a great option. They still will look great and last for many years to come. When both options are a great choice, you really can't go wrong.
Which do you think is best for your home? Let us know on our Facebook page.