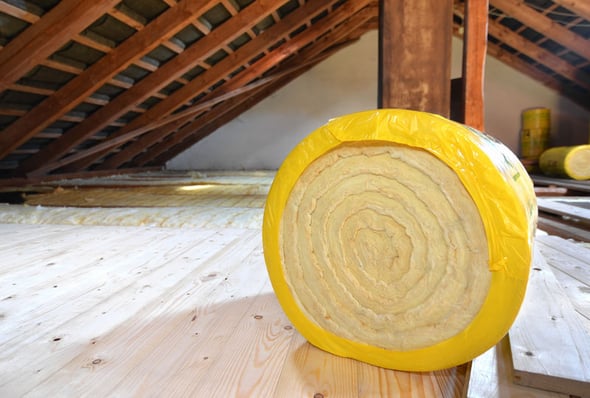 The answer might help you win a trivia contest. And it might even help swing a few wagers your way.
But there's a more fundamental reason to know your R-value: so that you can purchase the right type of insulation for your attic – if, that is, you decide to tackle this crucial home improvement project on your own.
And if you don't know your R-value? Now is an ideal time to learn, especially with temperatures falling and you'll soon feel the effects of a poorly insulated attic. Let the most trusted insulation company in Las Vegas, First Quality Roofing & Insulation, lead the way.
Learn the recommended attic insulation R-value for Las Vegas
As you may already know based on what you have in your home, insulation is made of different materials, including cellulose and fiberglass, and it comes in different forms, most frequently loose fill, sprayed foam and batts and rolls.
Despite these differences, the one element they have in common is the R-value, which the U.S. Department of Energy defines as "a measure of insulation's ability to resist heat traveling through it. The higher the R-value, the better the thermal performance of the insulation."
The department has broken down the United States into eight climate zones, and the entire state of Nevada is designated zone 5. With regard to the recommended attic insulation R-value for Las Vegas, there are two distinctions for attics:
For an attic with an existing layer of 3 or 4 inches of insulation, the value is R38 to R49.
For an

uninsulated

attic, the value is R49 to R60.
Reap the benefits of the recommended attic insulation R-value for Las Vegas
Think of insulation as providing a similar function to a jacket you wear on a cool Las Vegas night: it keeps warm air close to you and blocks cool air from depleting this energy source. Attic insulation is essential for energy efficiency, too. In fact, the U.S. Environmental Protection Agency says that once a home is properly insulated, homeowners on average save 15 percent a year on their energy bills.
Attic insulation supplies other benefits, too, including:
Improved interior comfort
Better humidity control
A minimized threat of dirt, dust, pollen and other outdoor contaminants from entering your home
Less outdoor noise
Take three proactive steps
Now that you know the recommended attic insulation R-value for Las Vegas and the benefits that insulation provides, it's tempting to jump right and get to work on insulating your attic. But try to harness your enthusiasm and:
Failing to undertake these steps would be a lot like reaching for a jacket on that cool Las Vegas night – and then heading out the door in a pair of short-shorts instead of long pants: self-defeating if not futile. You can count on the experts at First Quality Roofing & Insulation to assist your best insulating efforts. They not only understand the value of the recommended attic insulation R-value for Las Vegas; they will ensure your home derives every benefit insulation is designed to achieve.
Schedule a free attic insulation evaluation today at 702-262-7847 and keep the warm air inside your home this winter.