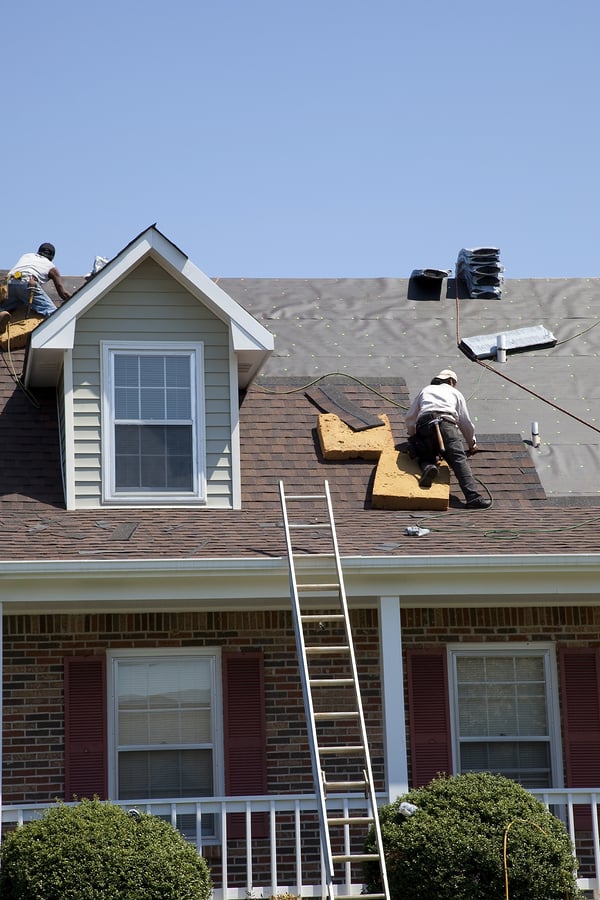 Roof replacement is not the most glamorous home repair, but it is one upgrade that can raise the value of your home and help prevent significant damage from occurring. Additionally, it can be a huge relief once you know you have a roof that you can trust above your head. You may be wondering what to expect from your roof replacement. This article will explain what takes place during a roof replacement, how to prepare as a homeowner and how long the replacement will take.
What Happens When You Replace Your Roof?
If you've never had to replace a roof before, the process might feel a little mysterious. By understanding this process, you'll be able to understand your quote better and know what to expect when the work begins.
Shingle removal: The crew will begin by removing old shingles and throwing them into a dumpster on your property. They should tarp your garden and property before beginning and will use a magnet to remove nails and metal debris afterwards.

Minor repairs: Depending on the type of roof and damage, they'll either make minor repairs or replace sheathing with new plywood. The crew will tarp the attic, while you should secure or remove valuables.

Asphalt roofing paper: Over the plywood, roofers will tack or staple roofing paper to create a waterproof layer between the roof and your home. They'll overlap the layers as they move up the roof.

Metal drip edging: This will be nailed in place all over the roofing paper, as it controls the flow of water off the roof and away from the wood fascia beneath.

Flashing: Will get installed wherever water may leak into your home, such as chimneys, skylights and stack vents.

Ridge vent: This feature allows hot wet air to escape from the attic, improves energy efficiency and may prolong the life of your roofing system.

Shingles: These get installed starting at the edge of the roof and working their way up towards the ridge. Shingles come in bundles, in which 3 or 4 bundles can cover most roofs.
While there's a lot of steps to roof replacement, an experienced roofing professional will explain each step during the quote and assess which features your roof requires.
Professional Roof Installation
When choosing a roofing contractor, you want to do your homework to make sure you're working with a professional you can trust. Using a contractor who puts quality first means they'll use the best products every step of the way by experienced professionals.
A-Rating on Angie's List: Angie's List evaluates companies based on customer service, professionalism, reliability and punctuality. Companies who are Super Service Award winners have maintained A-Ratings for over three years.

Proper Licensing: Contractors in Nevada need proper licensing that certifies they have experience and skills required to perform the work.

Provide Warranty: Trustworthy contractors will stand by their work and offer a warranty on materials and labor.

Clear Estimates: They should go over the estimate with you so you understand every charge and stand by their quote.

Customer Service: Your contractor should show up when they say they will, answer your questions and inspire confidence in their work.
Reliable contractors put customer experience and quality first. While roof replacement is a big endeavor, it's less stressful with a trustworthy contractor.
How to Prepare for Roof Replacement
As a homeowner, you must prepare for your roof replacement. Experienced professionals will take every step there is to protect your home and belongings. However, you can take proactive measures to make sure your home is ready for work.
Remove, Cover and Secure: As work takes place, debris will often fall into the attic and garage. While roofing professionals will perform daily cleanups, it is recommended to remove, cover and secure any valuable belongings in the working area to further eliminate the risk of damage.

Material and Debris: Large trucks and dumpsters may need access to the property to deliver materials and take away debris. Communicate with roofers regarding deliveries and special instructions.

Living in a construction area: There's no getting around the fact your home will become a construction area throughout roof replacement. Pack fragile wall decor and items on shelves away, as vibrations from construction may disturb the whole house.

Noise: Hammering and loud noises are unavoidable during a roof replacement. It's a good idea to get pets and small children out of the house while crews are working.
Customer oriented roofing professionals will take every precaution to make roof replacement as painless as possible. Your contractor should be open with you about what to expect through the entire process and how to prepare your home for the work.
How long does a roof replacement take?
Replacing a roof is a labor-intensive process affected by several factors. During your first consultation, you'll get a better idea of how long the replacement will take. Here are some factors that could influence roof replacement timing:
Size of the roof: Depending on the size or kind of the roof, it can take a few days or much longer.

Weather: Wind or rain can stop or slow down work on a roof replacement.

Material: Asphalt shingles often take far less time to install than concrete tiles.

Roof Decking: There may be unseen damage to roof decking that takes extra time to repair.

Roof System Method: A complete tear-off and replacement takes longer than re-roofing over old shingles.
Your contractor will discuss all the options with you, as well as help you decide on the best material and methods for your roof.
Roofing Systems Backed with Experience
We only use products we believe in. The roofing systems we install are committed to producing the highest quality shingles available on the market today:
Owen Corning Architectural Series: Four distinctive fiberglass shingles covered by a limited warranty of 25 to 40 years.

Eagle Tile Concrete Shingles: Has the widest selection of colors and styles - they're one of the most popular roofing tiles on the market today.
The Premier Las Vegas Roofing Contractor
First Quality Roofing & Insulation focuses on customer experience from the first consultation to when the job is completed. Always expect us to put quality first in everything we do. Call us at 702-262-7847 or use our online form to find out if you need a roof replacement or a repair today!