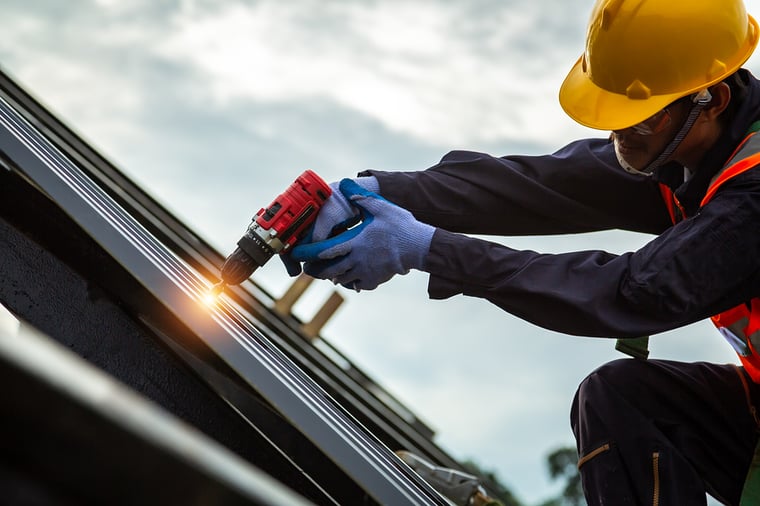 Roof repairs and replacements are huge investments that can take a toll on you if you lack ready finances to pay. Luckily, there are numerous roof financing options to help you pay for your roof, depending on your needs and financial situation. Read on to find out how to plan for your roof financing, as well as the best roof financing options available.
Essential Things You Should Be Aware of When Planning to Finance Your Home's Roof
Roofing projects can take a toll on your finances if you go at it the wrong way. You need to have all the necessary information and knowledge about your financing options to make the right choice, so that you don't overstretch your finances. Here are four things you need to know when planning to finance your home's roof.
1. There are multiple roof financing options with different offers: You have plenty of roof financing options to choose from, ranging from roofer financing, to insurance and even credit cards. Each of these roof financing options comes with unique offerings in terms of qualification requirements, interest rates and repayment schedules. Therefore, you need to look at the various financing options before choosing the best deal with the most favorable conditions and repayment terms.
2. The cost of roofing changes depending on the time of the year: When planning your roof's financing, keep in mind that the time it takes to carry out your roofing project will affect the cost of the project and the availability of your roofer. To avoid spending too much money, you need to schedule your roof repair or replacement in winter. This is because most roofers are busy during warmer months, as more people prepare for the inclement winter weather. What's more, roofing materials won't cost much during this period and services may be less expensive due to low demand.
3. There is a variety of payment options: Before you take out that loan for your roofing project, ensure you check your insurance and warranty first. Your warranty or insurance policy may cover the repairs or roof replacement and you may not have to pay for it. Otherwise, there are numerous ways to pay for your roofing project. Depending on the roofing company you choose, you can pay for the services upfront or work out a payment plan that stretches across a given period. Be sure to select the one that's most convenient for you.
4. Incentives can lower your roofing expenses: You can save money by taking advantage of incentives offered in your locality. For example, you may be eligible for a tax credit if you install an energy roof. You can also get a discount package from your roofers for completing multiple roofing projects at once, such as a roof repair and gutter replacement. When planning for your roof financing, look out for available incentives, so you don't have to incur huge expenses.
The Best Roof Financing Options for Las Vegas Home Owners
Regardless of whether or not you plan for your roof repairs or replacement, it will cost you a large amount of money. If you have a roofing project coming up and you don't know where to start when looking for financing, below are the best roof financing options in Las Vegas to help you pay for your new roof.
1. First Quality Financing Plan
Financing directly from the roofing company may be the best roofing financing option available, if you are looking for an affordable and convenient source of funds. This is because roofers who offer financing options for their roofs, partner with lenders to give you access to affordable credit tailored to your budget. This way, you can have all your roofing needs, both roofing services and financing handled by your reliable roofing expert.
The First Quality Roofing Financing Plan is a 100% roof financing option offered by First Quality Roofing & Insulation that comes with affordable rates and convenient payment schedules. Repayment periods can be as long as 132 months at an annual percentage rate of 9.99% and a monthly installment of 1.25%, or as short as 37 months with an interest of 5.99% and a 3% monthly installment. First Quality Roofing & Insulation customers can also benefit from the offer of incurring no interest, if your loan is paid off within 18 months.
2. Home Equity Loan
Home equity loans are loans that you take from a bank using your home as security. With a home equity loan, you get to pay low and fixed interest rates, as well as fixed monthly installments. The good thing is that the interest is tax-deductible and you can extend your payment period to reduce your monthly installments significantly.
Before you are approved for a home equity loan, your lender takes into account the amount of equity you have in your home so you can borrow against it. You should have at least 20% equity in your home to qualify for this loan. If your home equity can sufficiently finance your roof repair or replacement, this option should also be highly considered.
3. Personal Loans
Sometimes, the equity you have in your home may not be sufficient enough to cover your roofing expenses, which makes taking up a personal loan a better alternative. Personal loans are unsecured loans that carry an annual percentage rate between 6-36% and a payment period of up to 7 years. In order to qualify for a personal loan, you need a credit score of at least 690. However, if you have a lower credit score, home improvement loans are available for you, although you may incur a higher interest rate.
The good thing about personal loans is that you don't need collateral and you can receive your funds within a week. Most online lenders allow you to prequalify for a loan to establish the terms and conditions without affecting your credit score. This means you can prequalify with different lenders, make comparisons and choose a roofing financing option that fits your needs and financial situation.
4. FHA Title I Loans
FHA Loans are Government-insured financing options backed by the Federal Housing Department. They generally offer low-interest rates compared to conventional loans. The FHA Title I Loans are fixed-rate loans for home improvement that have no minimum credit score requirements. You can borrow unsecured loans of up to $7,500. Any amount over that will require the security of mortgage or deed of trust.
Keep in mind that this option requires you to have lived in your home for at least 90 days and either own or have a long-term lease on your home. Also, you will be required to use the funds on the initial project you stated when applying, which means you can't channel the money to other unrelated projects.
5. Credit Cards
If you have an excellent credit score, you can apply for a 0% promotional interest credit card and use it to finance your roof. Although this financing option gives you a short repayment period, you won't pay interest for your loan if you service it within the recommended time period. Credit card financing is ideal for people with good credit scores and those with alternative sources of funds, like savings. Additionally, it should be noted that credit limits may be too low to cater to your roofing needs and may require you search for other options to make up for the difference.
Don't Panic! Let Us Finance Your Roof Repairs and Replacement
First Quality Roofing & Insulation offers not only stellar roof repair and replacement services, but also 100% financing so you can complete your roofing project. Contact us today at 702-262-7847 for reliable roofing solutions and affordable roof financing options.