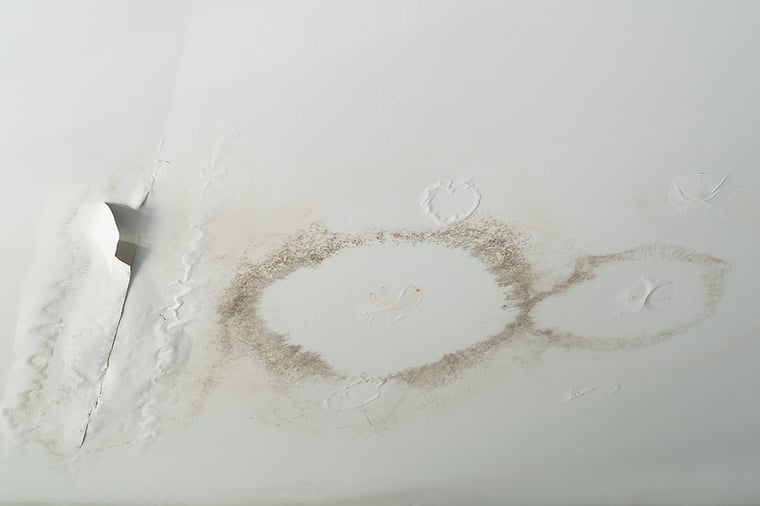 Let's talk about roof leaks. Many people don't realize that, in most cases, roof leaks don't actually start on a particularly rainy day. They usually start when the weather is hot and sunny — two things that Las Vegas in particular experiences quite a bit of. After it rains, any water left undrained on your roof is usually dried off by the sun, but it can still cause damage to the area in question. As the sun continues to beat down on your roof, the problem area gets worse and worse. Then, the next time a particularly bad storm rolls around (which can be often during monsoon season), you've got a major issue on your hands that you may not have even realized existed in the first place.
While it's true that any water that drains into your house will probably dry within 48 hours, mold growth can still occur under these conditions. If you are considering having this issue professionally repaired, you can expect the cost to be between $500 and a few thousand dollars or more on average — and that's if you're removing mold from crawlspaces only. The amount you'll pay will vary depending on a number of factors, like the area of the country you live in and the severity of the problem.
Note that if you are concerned about mold in ducts, walls, your attic, and similar spaces, you will need to plan for additional money on top of the previously mentioned figure. On average, it will be between $2,000 and $5,000 or more to tackle a mold problem in these areas. At the same time, it's also important to understand that not all roof leak repair contractors are created equally. Only by making sure that you're choosing the right partner will you be able to enjoy the peace of mind that comes with knowing your problem is finally taken care of.
Hiring the Right Roof Leak Repair Contractors: Breaking Things Down
By far, the biggest reason to do your due diligence and find the right roof leak repair contractors is because they'll do so much more than stop a leak. They'll also offer additional services like installing flashing, repairing weather-damaged roofs that may not leak yet but will in the future, and more. They can also likely repair damage that has been caused on the inside of your house, too — thus, making sure that the problem is solved and won't happen again.
Another reason it's important to hire the right roof leak repair contractors is that they'll have extensive experience with your specific roof type. For example, the steps necessary to fix a leak on a slate roof vary slightly when working with materials like cedar or metal. Commercial flat roofs are unique unto themselves. Certain considerations have to be made if there's a skylight or similar fixture. All of these things are difficult to account for on your own, which is why you need to make sure that your contractors of choice have you covered.
Additional Considerations About Roof Leak Repair Contractors
One of the biggest reasons why hiring the right roof leak repair contractors is so important is because they won't simply "treat the symptom" — meaning they'll do more than just stop water from getting into your house. They'll make decisions based on the exact reason your roof is leaking in the first place (and there are a larger number of potential causes than most people realize).
One common reason that roof leaks develop is because your flashing has cracked. Flashing is those thin pieces of metal installed on top of the joints of your roof and under the shingles. They're designed to create a water-resistant barrier, and if they crack, water might be able to get through. Fixing this particular problem requires you to work on the flashing in particular; the shingles themselves may not actually be damaged.
Broken shingles, of course, can get severely damaged in high winds and heavy rains, and they'll need to be replaced one by one.
These are entirely different solutions to a problem like a roof with valleys that aren't properly sealed – which will require your contractor partners to come in and lay a new leak barrier along the valley and under the shingles on top of it. Other potential sources of roof leaks (all with their own solutions) include cracked booting, skylights that weren't installed properly, clogged gutters, and more.
The point is, no "one size fits all" approach works to fix a leaky roof, because there are so many different potential sources for your frustration. Only the right, experienced team of professionals will be able to come in, assess exactly why your roof is leaking and take the most appropriate course of action to stop it entirely.
Finally, hiring the right roof leak repair contractors is important because they can put you on the type of proactive, preventive maintenance plan to help delay a total roof repair for as long as possible. Most people assume that replacing your roof is a "necessary evil" — simply one of those costs you'll have to deal with as a homeowner. But with the right approach, you can at least make sure this day doesn't arrive anytime soon.
Fixing small leaks to your roof quickly after they develop is a great way to make sure you're repairing any defective parts as promptly as you can. This often helps address your short-term situation while keeping you protected over the long term, too. The right roof leak repair contractors can also do so without cutting corners, thus providing you with an instant improvement and potentially increasing the resale value of your home as well.
The First Quality Roofing and Insulation Approach
At First Quality Roofing and Insulation, we're proud of the work we've been able to do for our customers over the years in Las Vegas and the surrounding area. We understand that the roof of your home is something you generally don't think too much about — until something goes wrong, that is. By the time it does, the damage can potentially be catastrophic in the wrong hands; that's a situation we never want you to find yourself in.
In addition to roof inspections that help us address small problems today before they become bigger (and more expensive) ones tomorrow, we also perform roof repairs, replacements, installation, attic insulation inspections and replacements, and more. You can rest easy knowing that your roof-leak needs are being addressed by a local provider who cares as much about your home as you do.
If you have additional questions about the importance of hiring the right roof leak repair contractors, or if you have any related questions that you'd like to take the time to go over with a professional, contact First Quality Roofing & Insulation at 702-262-7847 today.