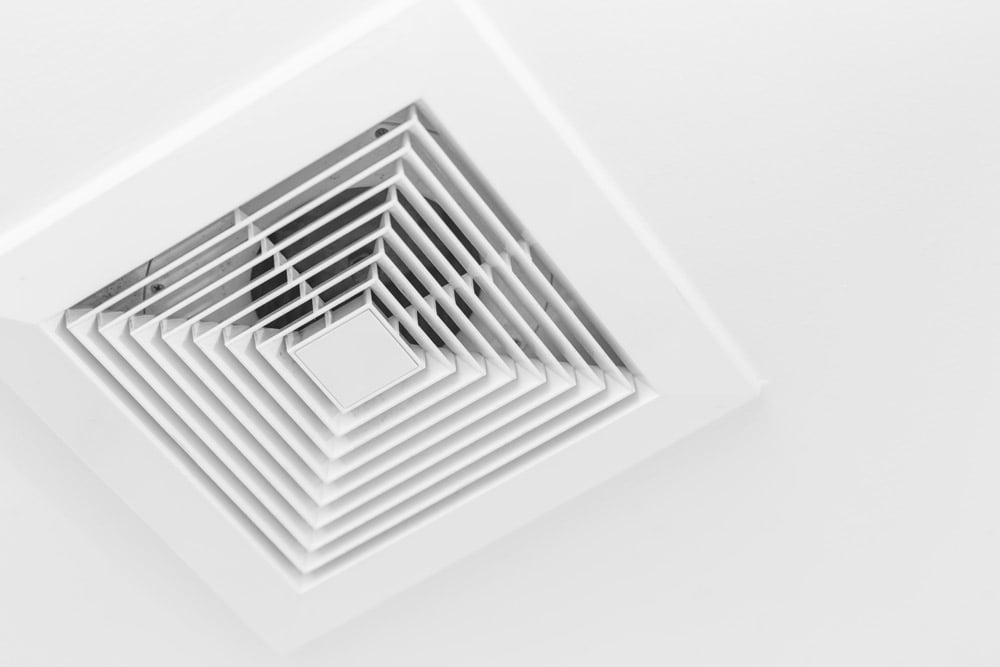 Does excess condensation build up in your bathroom? Do you notice bits of mold growth around the windows or in the shower? You might have a bathroom ventilation problem. Improper ventilation can contribute to a host of health issues, including allergies and other mold and mildew-related problems. A buildup of moisture can cause the following issues:
Wood cabinets get water stains and breed mold
Doors warp
Metal fixtures rust
Paint and wallpaper begin to crack and peel
Proper Bathroom Ventilation
Most newer homes are more airtight than older homes. That's great for energy savings but it makes proper ventilation even more important. There are some things to look for to ensure your bathroom ventilation system is functioning optimally.
The role of an exhaust fan. Keeping the bathroom dry and mold-free means finding a way to get the humid air out of the room. Exhaust fans are designed to do just that. Properly installed, and this fan rids the space of excess moisture, odors, humidity, and pollutants. It also helps to remove accumulated water vapor from mirrors and other smooth surfaces.
How to choose a bathroom exhaust fan. Performance, style and features are the three main things to look for. Choose a fan with a good ventilation rate. A 50 CFM rating is standard for bathrooms 50 square feet or smaller, but larger baths will need more. Other considerations include:
A separate exhaust fan for enclosed toilets.
Positioning fans approved for wet-area installation over or next to the shower or tub.
A ¾-inch clearance of the bathroom door to the floor. This allows for entry of fresh air.
Additional ventilation for bathrooms with ceilings over 8 feet high?
Keep noise in mind and look for a fan that rates at 1.0 sones or less (similar to the sound your refrigerator makes).
Just because a fan is functional doesn't mean it can't be attractive. There are hundreds of options that meet any budget or décor preferences. Some fans also include a light, timer, heating elements, or humidistat for automatic operation.
Lastly, the HVI-Certified label on an exhaust fan lets you know that the unit has passed rigorous independent performance testing. Choosing an HVI-Certified fan gives you peace of mind, knowing the product will perform as promised and achieve proper ventilation.
The Home Ventilation Institute recommends having a knowledgeable HVAC contractor install your bathroom ventilation system. This will ensure that your fan meets all current air exchange requirements. Contact us at 702-262-7847 to schedule your installation today!