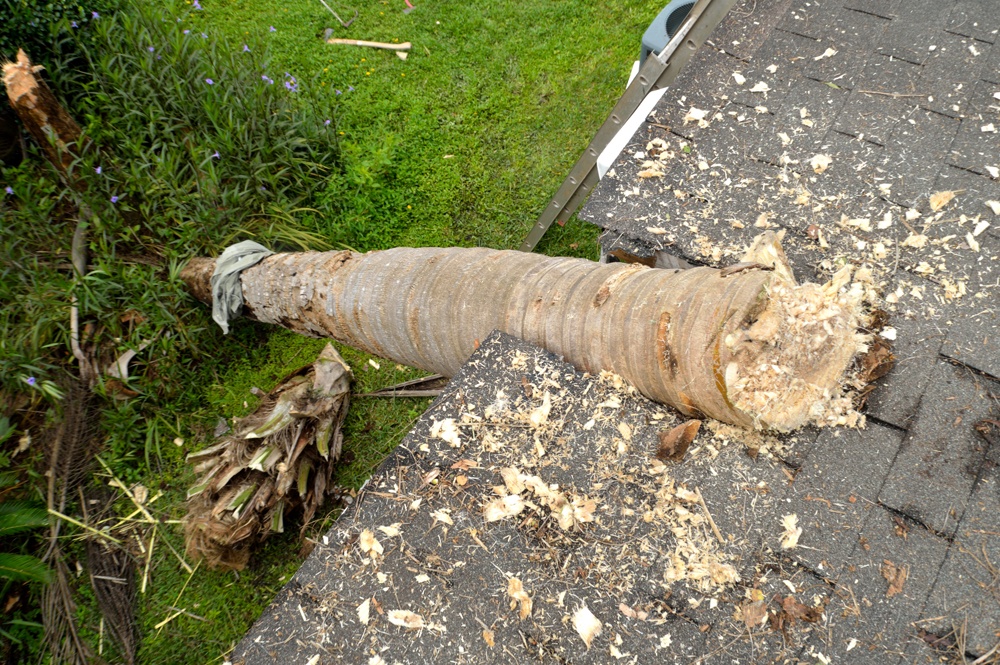 Sometimes it can be a good thing that people have short memory spans. But if you ask the Las Vegas residents whose homes and roofs were damaged by last spring's record-breaking winds, they will tell you to remember 2017 – and take notes.
The storms, which stirred up peak winds of 84 mph near Summerlin, cracked street poles in half, ripped the roofs off homes, overturned 16-wheel trucks and uprooted trees, sending them crashing into homes. Caught off-guard, the affected residents learned the hard way what to do when a tree falls onto their home. But you don't have to – if you follow the action steps they learned with the team that helped them repair the roof damage: First Quality Roofing & Insulation.
Step 1: Evacuate your home
In the first terrifying moments after a tree falls onto your home, there is no way for you to know the extent of the danger, which may include a gaping hole in your home or downed power lines running through it. So evacuate quickly, leaving through a second-story window if exits on the main floor are blocked. Many Las Vegas residents purchased fire escape ladders for exactly this purpose after last year's storms.
Step 2: Call 911
If you don't have access to your smartphone, go to a neighbor's home and call 911 for assistance. Once crews arrive, they should be able to survey your home and tell you if it's safe to go inside.
Step 3: Turn off the electricity and gas
They may be short-term steps, but it's a good idea to turn off the electricity and even the gas until you know for certain that electrical power and gas service to your home have not been compromised. Grab a flashlight from your vehicle or the garage if it's dark, being careful to look for debris and broken glass as you walk around your home.
Step 4: Call First Quality Roofing & Insulation
If our number isn't stored in your phone – 702-262-7847 – it probably will be after this event. We'll get to your home as soon as humanly possible. We recommend you stay outdoors until we arrive and resist the urge to investigate the damage. We realize this is a strong urge. It's your home and you probably have an overpowering desire to protect it and your belongings. But until we put a tarp over the roof, sweep up broken glass and tend to other tasks, we do not want you taking any chances with your safety.
Step 5: Call other contractors
You will have to hire someone to remove the tree and, perhaps, board up broken windows.
Step 6: Contact your insurance company and document the damage
Your insurer may not approve any repairs to your home until an adjuster arrives to survey the damage. Or the insurer may set a "repair limit." We've seen plenty at First Quality Roofing & Insulation, so we know the importance of communicating and documenting all exchanges with insurance companies.
You'll need to take pictures, too, to submit with your claim.
It's a rare home emergency that doesn't spawn at least one other unexpected event. Once First Quality Roofing & Insulation is on the scene, we can assist you since we're experienced in responding calmly and efficiently to such roof damage emergencies. Just ask your neighbors.