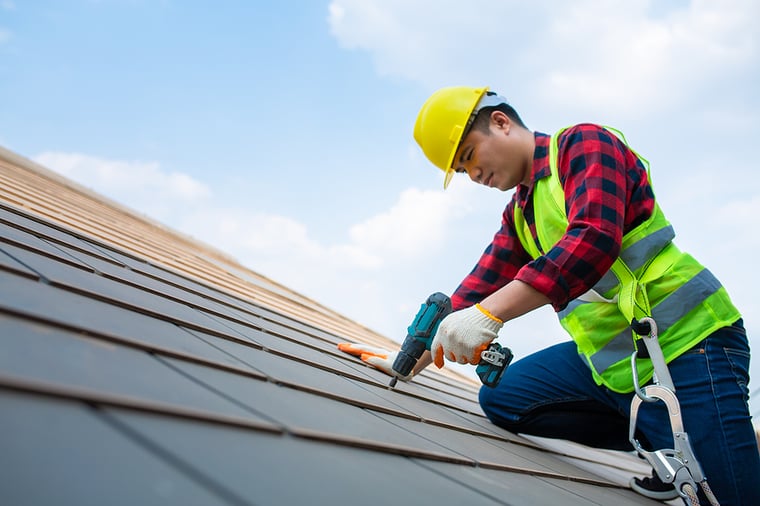 Your property's roof is one of the most important parts of your building. It is also one of the costliest in terms of repairs and replacement. To ensure that your roof provides the protection you need from the elements and serves you for a long time, you need to be proactive about preventive maintenance.
Preventive roof maintenance includes regular roof inspections, minor repairs and cleanings. As a rule of thumb, you should carry out routine maintenance at least twice a year and after bad weather to keep your roof in good condition.
Benefits of Investing in Preventive Roof Maintenance?
Prevent Further Roof Damage
A neglected roof is vulnerable to damage. What's more, you won't accurately identify what is wrong with your roof until you take the time to inspect it. With this in mind, preventive maintenance helps you minimize roof damage as you get to identify roofing issues before they escalate and become more severe. This way, you avoid the stress that comes with having to repair extensive roof damage. In some cases, a highly costly roof replacement may be necessary.
Save Money
While roof maintenance may cost you money, roof repairs and replacements as a result of poor maintenance will cost you much more. Preventive maintenance enables you to save money in the long term that you would otherwise spend on repairs and roof rehabilitation. It also allows you to plan and budget for your repairs instead of having to suffer costly emergencies. The good thing is that most roofing experts offer free inspections, which allows for cost savings.
Maintain Your Property's Curb Appeal
A neglected roof tends to look unpleasant, ruining the aesthetic appeal of your property. The roof is one of the most conspicuous parts of your property that people quickly notice when they are within or near your premises. Preventive maintenance ensures that your roof is well-taken care of and stays in great shape. This, in turn, improves the curb appeal of your property by boosting its appearance.
Prevent Leaks
Although a new roof may not be prone to leaks, older roofs are more vulnerable. What's more, flat roofs are more likely to experience pooling. Pooling puts your roof at risk of water damage and ruins the integrity of your roof by accelerating roof rot. Regular maintenance helps you prevent water pooling and fixes potential leaks that might damage both your property and valuables.
Increase Peace of Mind
Inclement weather such as strong winds and heavy downpours threaten the integrity and efficiency of your roof. However, you don't have to worry about leaks or blown off shingles when bad weather sets in if you have an active roof maintenance plan. With preventive roof maintenance, you enjoy peace of mind knowing that your roof is in good shape and can withstand bad weather.
Increase the Lifespan of Your Roof
Every roof has a lifespan. With excellent skills, good quality materials and proper care and maintenance, your roof can last for ages without losing its efficiency. To accomplish this, you need to address all the warning signs that show your roof might be in distress. Checking your ceilings for watermarks and stains, your gutters for any signs of blockage and shingle residue, the siding, and curled or missing shingles. Moss growth and algae on your roof can also promote moisture build-up and shortens its lifespan.
Protect Your Valuables
A leaking roof puts the interior of your home at risk of water damage. The water not only stains your ceilings but also ruins your wall paint and encourages mold growth. Mold growth on your fabrics and home is both unsightly and promotes wear and tear of your valuables. What's more, it puts the health of your family members at risk. Leaks can also ruin your furniture and electronics. Preventive maintenance helps you avoid any damages or loss of valuables that may occur due to roof damage.
Warranty
In the case of roofing problems, you have the right to utilize your warranty and get your roof fixed without incurring the full costs. However, most roofing contractors will void your warranty if the cause of your roof damage is poor maintenance. Preventive maintenance ensures that your roofing contractor reimburses you for the materials and roofing costs in case you need to use your warranty.
What You Should Do to Ensure Your Home's Roof Is Always Strong & Durable
The best way to ensure your roof is strong and durable is by having an active preventive maintenance routine. Below are a few tips to ensure that your roof is in good shape.
Inspect Your Roof Regularly
You can inspect your roof from the ground with binoculars every 2-3 weeks. Look out for missing or curling shingles, debris, moss, and check for water damage on the siding. Also, ensure that your drainage system is not clogged. Be careful not to get on top of the roof as it is dangerous, and therefore best left for professionals.
While a DIY roof inspection may not catch all the issues, it can help you identify problems on your roof that need fixing. It is advisable to conduct a professional roof inspection twice every year and after bad weather such as heavy downpours or strong winds.
Work with the Pros
The quality of your roof depends on the expertise, and workmanship of your roofing contractor. When scheduling a professional roof inspection, look for a roofing expert with extensive experience, skills, and equipment to effectively inspect and address all your roofing issues. Also, ensure that your roofing contractor is licensed and insured. This way, you won't be liable in case of any injuries or damages when working on your property.
Avoid Procrastination
It is easy to procrastinate when it comes to scheduling a roof inspection or maintenance. However, roofing problems require immediate attention as it is expensive to repair or replace a severely damaged roof. Delaying roof maintenance also puts the safety of your loved ones at risk in case of leakages or a roof collapse. Always conduct roof repairs within 12 hours. Waiting for long before attending to your roof not only makes the roofing problems worse but also increases your expenses.
Cut Overhanging Tree Limbs
Overhanging tree branches can fall on your roof and damage it. What's more, the leaves and debris from the tree can pile up on the roof, promoting moisture build-up and exerting weight on it. The moisture and weight threaten the integrity of your roof structure and promote rotting. As such, ensure that you trim the trees around your home to protect your roof.
Minimize Roof Traffic
Minimize traffic on your roof by ensuring that only professionals access the top of your roof. You should also put up walkway pads in areas with high traffic to minimize damage to your roof.
With the numerous advantages of preventive roof maintenance, it is crucial to make it a part of your home maintenance routine. At First Quality Roofers, we offer professional roof inspections and repairs to ensure that your roof serves you well for longer. Contact us today at 702-262-7847 for all your roofing needs.