As costs for everything from food to energy climb, it is important to take steps to stretch your budget as far as possible. With so much sun nearly every day in the Las Vegas area, installing a solar system is an easy way to cut your energy costs, help the environment, and add value to your home. Plus, with federal tax incentives, net metering, and other programs, adding solar in Las Vegas makes more economic sense than ever.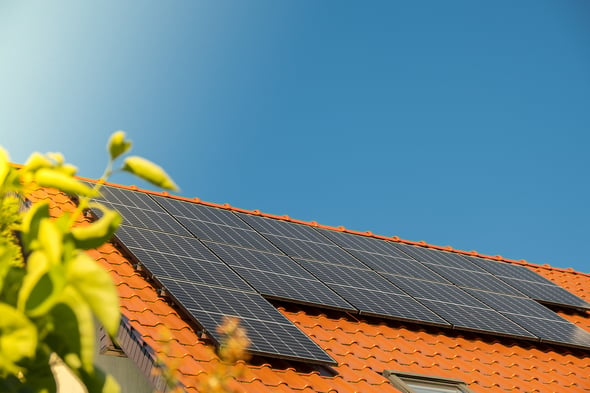 How Does a Solar System Work?
Solar panels, also called photovoltaic panels, absorb energy from the sun, using specialized semiconductors to convert that energy into direct current or DC electricity, similar to what a battery produces. An inverter converts that DC electricity into alternating current or AC electricity that your home can use. In many cases, any excess electricity can be sent to the utility grid for credits on your utility bill in a process called net metering.
What are the Benefits of Solar in Las Vegas?
Designed properly, a solar energy system can:
Cut your electrical bill by 40% or more

Reduce your environmental impact and carbon footprint

Decrease use of non-renewable energy like coal or natural gas

Add significant resale value to your home
How Much Do Solar Panels Cost?
The cost of solar panels will depend on how much electricity you use and how much of your grid power you would like to replace. According to the Solar Energy Industries Association, the cost of solar panels has dropped from $5.79 per watt installed in 2010 to less than $1.40 per watt in 2021. Incentives from federal, state, and local programs can drop those costs further--plus, with net metering, you can earn credits on your utility bill anytime you generate extra power.
A well-designed system can handle most or all of your electrical loads during the day, reducing your utility costs by up to 40% or more. Oversizing your system can ensure you generate credits that offset some of your electrical costs after dark or during cloudy days.
What Incentives are Available for Solar in Las Vegas?
Thanks to the Inflation Reduction Act of 2022, the federal investment tax credit for solar system installations has increased from 26% to 30%, and it is in place until 2032. That means that you can receive a tax credit for up to 30% of the installed cost of your solar system when you file your annual taxes.
NV Energy also offers net metering in the Las Vegas area, which allows you to earn credits equal to 75% of the retail cost of electricity for any excess energy that you produce. Between the federal tax credit, net metering, and lower utility costs, your savings with solar in Las Vegas can be quite significant.
Solar Panel Installations in Las Vegas
If you are considering solar for your Las Vegas home, talk to our team at First Quality Roofing & Insulation. We can determine if your home is a good candidate for solar in Las Vegas, and we can design and install a system that meets your needs and budget requirements. We offer top-quality work with unsurpassed professionalism, upfront pricing, and up to 100% financing for qualified customers.
Start saving money and helping the environment! Call First Quality Roofing & Insulation today at 702-262-7847 or contact us online to schedule a solar consultation anywhere in Las Vegas, Henderson, Mesquite, Pahrump, or the surrounding areas.