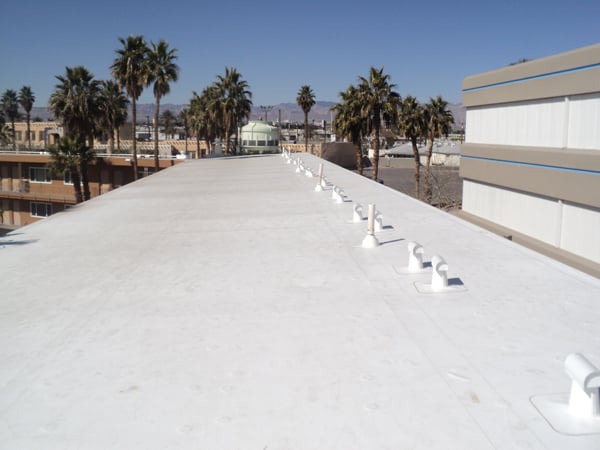 So, you think you've done everything you can to gain the upper hand over your summertime cooling bills. You've caulked and sealed. You've insulated. And you've ventilated.
So, what on earth is that First Quality Roofing & Insulation crew doing across the street, spreading what appears to be white paint on your neighbor's roof? What does he know that you don't?
He knows that while it may look like paint, that cool roof coating may represent his last best chance to cool down his roof, reduce his energy bills and probably extend the lifespan of his roof.
Cool Roof Coating Stands Tough to the Harsh Effects of the Sun

Cool roof coating isn't exactly new, though they may be new to you, especially if you're new to living in a hot climate like Nevada. Homeowners and businesses have long gravitated to the benefits of the coating, which consists of a durable combination of resins, acrylics and polymers. Fungicides are included to reduce mildew. And silicone provides three benefits: it strengthens the coating, fortifies its waterproofing abilities and enhances the brightness of the color, which is usually a shade of white. There's a good reason for this: white is superior at reflecting the sun's rays.
This is important because the sun's ultraviolet rays are among the greatest threats your roof faces almost every day. (And "almost" is no exaggeration since Las Vegas is one of the sunniest cities in America.)
The sun can heat up your roof to a sizzling 160 degrees, causing nails to pop, shingles to warp and flashings to crack. It's probably a relief to you when the sun goes down; your air conditioner finally gets a break from running relentlessly throughout the day. But it's exactly when temperatures drop that you have to be concerned about your roofing materials expanding and contracting under all that pressure – a condition known as thermal shock.
Coating Will Literally Cool Down Your Roof

A cool roof coating works to blunt all of these effects by:
Keeping your roof and house cooler and more comfortable indoors.
Reducing your reliance on your air conditioner, which in turn should lower your cooling bills.
Preserving the state of your roofing materials so that your roof lasts longer. By some estimates, roof coatings have been shown to extend a roof's life by between five and 15 years.
Applying a cool roof coating is neither a difficult nor a lengthy job. But given the unusual terrain, it's a job suited only to a professional roofing company like First Quality Roofing & Insulation. We'll ensure your roof is in good physical condition first and make any necessary repairs. Then we'll clean the surface so that the coating adheres as it should.
The coating itself is usually a little thicker than paint. And we normally apply two thinner coats rather than one heavier coat to ensure a proper seal.
We usually don't have to wait for a sunny day to apply a cool roof coating. But we do prefer to wait for when very cold nights have passed, and dew and frost no longer pose a threat to the veracity of the coating.
This means the time is right for you to call First Quality to make an appointment – and turn the tables by getting your neighbors talking about your cool roof.