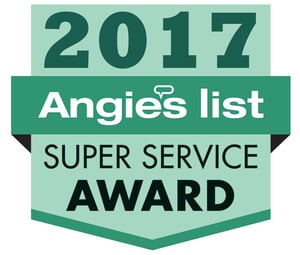 Finding reputable, high-quality roofing contractors can be a daunting task. How do you know which company is going to deliver on the promises they offer? What assurances do you have that the work is going to be done right the first time? What happens if something goes wrong?
Your roof is arguably the most important part of your house. When properly installed and maintained, it should last several decades, even if you have to replace a part here and there along the way. If you're not receiving service from roofing contractors who know what they're doing and stand behind their work, however, you could find yourself with shabby shingles, expensive energy costs, mold, and more. You see, your roof does far more than provide a topper to your home; it prevents water from seeping into your attic and keeps your house insulated so you enjoy the most efficiency possible from your HVAC system.
With so much riding on roofing contractors, what can you do to find the company that's right for you? You go with the pros who have been awarded some of the most prestigious accolades in the industry!
First Quality Roofing & Insulation Angie's List Super Service Award Winner
In 2012, our Las Vegas roofing contractors were ecstatic to learn that we'd been selected to receive the Angie's List Super Service Award.
Imagine our excitement when, for the sixth year in a row, the good folks at Angie's List once again acknowledged our commitment to outstanding quality and customer service by anointing us with this distinguished prize once again!
We're incredibly proud of every job we do, and we're even prouder to be recognized by one of the leading review sites in the nation. Thanks to this esteemed award, our customers can rest assured they're getting only the best products and services our industry has to offer.
How the Angie's List Super Service Award Helps Your Search for an Outstanding Roofing Contractors
The Super Service Award isn't given to just any business; this coveted reward is only granted to companies that consistently meet strict eligibility requirements. When you choose a company that boasts of this title, you can rest assured your contracted vendor:
Is in good standing with Angie's List
Passed a background check
Can attest to its current trade license
Abides by Angie's List's operational guidelines
We received this award because, throughout all of 2017, we consistently went above and beyond to ensure our customers had the most seamless experiences possible. Our award badge is an honor, putting us in a top-of-the-class threshold that we don't take lightly!
Are you ready to hire some of the foremost roofing contractors in Las Vegas? First Quality Roofing & Insulation is ready to tackle your task, no matter how large or small! Before you try the other guys, start with the best and brightest roofers in the industry. Fill out our online form, or call us at (702) 262-7847, to get started!