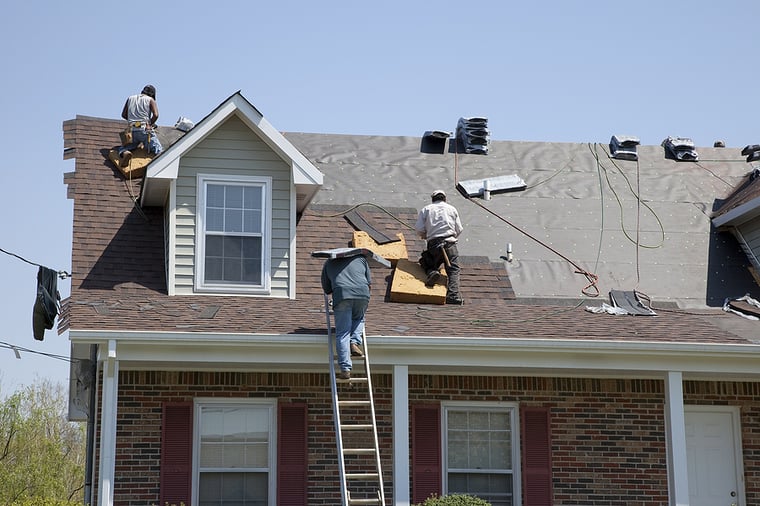 The cost of repairing a broken roof will often vary depending on the size and complexity of your roof, the type of roof shingles used, and the contractor you hire to do the job. An average person may not be in a position to cover the costs of repairing a damaged roof. For most people who experience roof problems, cash is not always a feasible option to pay for a new roof and its accompanying repair costs. This is where roofing companies that finance can help. Read on to find out how you can find a roofing company with financing options for your home.
Why You Should Work with Roofing Companies that Finance
If you have built up a fund for roof maintenance and repair, that is great! However, many homeowners are left unprepared for roof repairs due to unexpected natural hazards that may have caused damage to their home. Even if the damage is covered by insurance, you can still be left with a hefty deductible that is not in your budget. Financing options from roofing companies are a great option to repair your roof in real-time, as they offer payment plans to help make your roofing costs more affordable.
Many roofing companies offer financing options for your roof replacement or repairs, and can help you find the right loan for your roof. Before getting the loan, know how much financing you need for the roof replacement by consulting roofing professionals.
You can apply for financing through a roofing company using a simple credit score. The process is relatively simple: roofing company financiers will look at your current credit score, current debt and income to determine whether you qualify for a roofing loan. They need to know that you can pay back the loan. In most cases, you will be charged lower rates when you have a better credit score.
Before deciding to take the loan, consult your homeowner's insurance policy to determine if it can cover your roof's damage. Your insurance may pay for a roof repair depending on your policy and the circumstances surrounding roof damage. For example, if the house was damaged due to a weather-related event, then the insurance coverage might apply. However, the insurance may not work if you are repairing a roof due to old age or to increase your home's resale value.
How to Find a Reputable Roofer
It can be a challenge to find roofing companies that finance near you. While there are many roofing companies that finance, they offer different interest rates and may not be the best fit for you. Therefore, the first thing to do is to find a reputable roofer that can finance your roofing project.
Shop around by looking at different roofing companies. Your primary focus should be on finding a local roofing company that has well-established ties within the community. The company should have the reputation of using quality roofing materials and has maintained business operations for a considerable time. Hence, you need to conduct enough research to ensure the contractor has a strong reputation for performing a good job. Contracting a professional roofer with a roofing contractor's license will prove their legality and experience in offering roofing services. You can ask for references from your friends or use online reviews to select the best company.
At the same time, you should ask if the contractor is a member of any local or regional trade association before working with them. A roofer who belongs to a local trade organization is plugged into the local and national guidelines and regulations regarding roof financing.
If you want to patch a leak or replace a portion of your roof, you can find several financing options available to you. Many roofing companies provide financing in the form of payment plans that charge interest. The specific terms and rates for the funding will vary depending on the contractor, as well as your credit score. Most roofing companies with financing options have an existing relationship with lending companies that allow them to provide special deals or interest-free options.
In most cases, financing interest rates can be the biggest obstacle when shopping for your best financing options. You need to pay attention to the terms and details of the funding before agreeing to work with the lender. If a financing company offers an interest-free period, ask what the interest rate will be after the period to avoid going in blindly. If the rate is too high, you may find yourself paying more than what you are bargaining for.
It's important to clarify with the roofing contractor how long you can finance your roof. Long-term loans can be affordable, but you will pay higher interest than shorter loan terms. While you will pay slightly more interest over long-term loans, many people will choose this option to ensure payments remain within their budget.
Benefits of Working with a Roofing Company that Finances
Homeowners often choose to finance their roofing projects due to the benefits of working with a contractor that finances. The roofer may offer opportunities that can help you save money for emergencies and investments if your project is urgent. The following are additional benefits that come along with working with a roofing company with financing options.
Financing options your roofer may provide include no upfront payments to reduce the burden of financing your roof repair. Upfront payments are one of the biggest hurdles when it comes to home repair. When you finance a new roof through an independent contractor, you can benefit from low monthly payments. This low monthly rate allows you to pay for your roof in affordable installments, while preventing the need to pay for an expensive roof project in one lump sum.
You can also benefit from low-interest rates depending on your credit history and payment terms during the life span of the loan. You need to understand the annual percentage rate of the loan before getting into a contract with a roofing company that finances. If you don't have home equity, then going for an unsecured option might be a more appropriate choice.
Secondly, working with a roofing contractor that finances can help defer upfront payment without interest. If you are looking to delay a lump sum payment while still avoiding interest, then consider loans with zero perfect financing upfront and no prepayment penalties. You can defer making any payments during the first part of the loan, where installment loans that offer six months of no interest and no charges are offered. This means you can pay the entire loan without interest any time before the six-month deadline or make the required monthly payments at the interest rate.
When you work with a roofing company that finances, it allows you to delay payments. The loans will let you put off payments for a set period before you start making regular payments at a fixed interest rate. This can help anyone who is short in cash but needs to start working on a roofing project without delay. Roof financing options allow you to repair your roof for safety concerns, even when you don't have cash.
100% Roof Financing OAC
Roof repairing is crucial to address any existing problems and invest in your home for the future. This is not something you can postpone until you have the cash to pay for it. It could take time while causing more damage to your home that risks your health and the value of your home. The best way to take care of your roofing issue is to finance the project. Turn to First Quality Roofing and Insulation for your professional roof replacement services with roof insurance and financing. We will help you repair your damaged roof by providing loans to pay in installments. Contact us at 702-262-7847 or by filling out the contact form to set a consultation date.