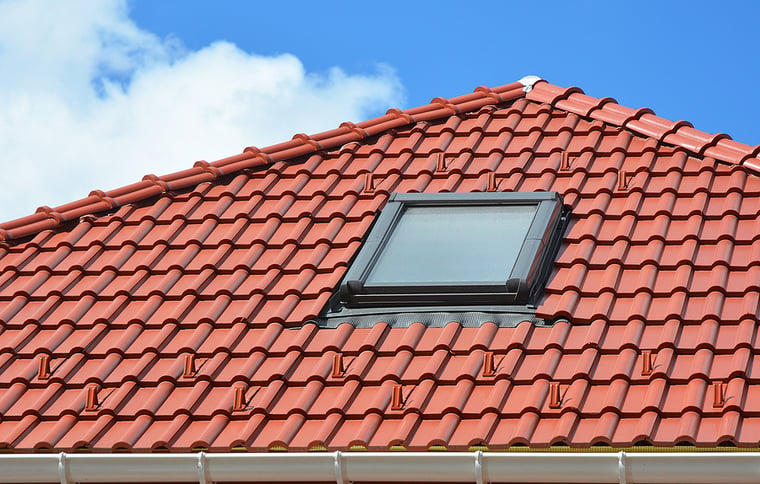 A properly installed skylight is a great addition to any home. However, skylight installation is a challenging process and may not be practical for everyone. It's best to schedule a professional roof inspection to determine if your home's roof design allows for a skylight to be installed easily. If you're thinking about installing a skylight on your home, there are several important factors to consider.
Steps to Take to Ensure Your Skylight Installation Goes Smoothly
Carefully Consider the Location of Your Skylight
It's important to spend time determining the best location for your skylight. Watch the path of the sun over your home to find areas of the roof that receive the most sunlight. Also, whether you have a truss-framed roof or a rafter roof, it will have an impact on the location you select for install. For example, it's difficult to install larger skylights on a roof with a truss frame because cutting pieces of the truss away will undermine the integrity of your roof. It's a good idea to schedule a roof inspection before cutting into the roof, as you may inadvertently cause severe damage to your home.
Another thing to think about is how your ceiling will be finished inside your home on the other side of the skylight. Light shafts can be flared out to maximize the dispersion of light throughout a room, while straight shafts work well to enhance the ambiance of homes with tall, sloped ceilings. During your roof inspection, have professionals look at the interior space of your home to determine what kind of shaft would best accentuate your interior space.
Determine the Type of Skylight You Want
There is a wide array of skylights on the market today, each with different functions and designs. The type of skylight you choose will depend on your budget, home design and aesthetic taste. It's also critical to consider environmental factors. While there are a lot of variance between them, skylights can be organized into three types:
1. Ventilating Skylight
These skylights can be opened either remotely or manually to let in fresh air. Models which support an insect screen, are available as well. This is a great option for homeowners seeking to keep homes cool during hot days without relying on air conditioning. Hot air naturally rises, and a ventilating skylight will help keep that heat from building up inside your home.
2. Tubular Skylight
Tubular skylights are perfect for adding a bit of natural light to smaller areas like bathrooms or bedrooms. Since tubular skylights take up so little space, they are ideal for homes with various obstructions on the roof or inside the attic that would not allow for a larger skylight to be installed. Because of its small size, tubular skylights are often much more affordable to install than other alternatives.
3. Fixed Skylight
Fixed skylights are among the most common types seen in homes today. As the name suggests, fixed skylights cannot be opened. These skylights are known for their ability to resist water leaks, thus making them more reliable and longer lasting.
Invest in Quality Materials
The durability and visual appeal of your skylight will largely depend on the materials that are used. Skylights can be comprised of either plastic or glass. For the most part, glass is the more expensive option but is also much better equipped to handle inclement weather. Also, glass skylights have more clarity while plastic skylights tend to produce a wavy, distorted effect when looking through them. Discuss the pros and cons of each during your roofing inspection to get a better idea of what material to choose.
To help protect the skylight itself and your interior furnishings, it's best to invest in materials that have been double or triple-glazed. This means a coat of protective material has been applied to the glass or plastic to improve its durability, resistance to UV rays and overall lifespan. You can further improve the energy efficiency of your skylight by installing Low-E glass, which adds further protection against UV and infrared light. Window tinting can also be applied to reduce heat gain and diminish the intensity of sunlight entering your home.
Employ the Help of Roofing Professionals
The best way you can ensure your skylight installation is a success is to employ the help of experienced roofers. First, contact a trusted roofing company to conduct a roof inspection to help you decide on the type of skylight you want along with the best placement for it on the roof. This roof inspection will also locate any potential leaks on the roof that may cause problems down the line. The best part about professional skylight installation is the guarantee on quality. Also, most professional companies provide warranties and maintenance programs for their skylights, which will protect your investment for years to come.
To schedule a roof inspection for your Las Vegas home, contact First Quality Roofing & Insulation today. Our team of seasoned roofing professionals will guide you through the process of your skylight installation every step of the way. First Quality Roofing & Insulation has received the Angie's List Super Service Award three times due to their dedication to customer service. Call us today at 702-262-7847 to learn more about our roof inspections, roof repair and skylight installation services.