It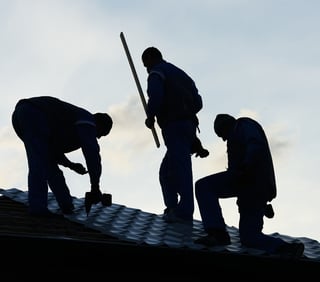 can be difficult enough to maintain the things around your home that you can clearly see. How are you supposed to maintain your roof, which lies out of your line of vision?
The answer is not nearly as fearsome as you might think. First Quality Roofing & Insulation makes roof maintenance in Las Vegas simple – at least if you follow six straightforward steps that we can conduct together. Along with a professional roof inspection, you can ensure your roof goes the distance and that we find – and fix – problems in their early stages before they erupt into major ones that can necessitate an early replacement.
Roof maintenance in Las Vegas made easy
Ensure your attic is properly ventilated and insulated. Your attic is your roof's first line of defense against the scorching Las Vegas heat. If it is poorly ventilated and insulated, the roofing material will age prematurely and deteriorate. (And also lead to much higher cooling costs.) Schedule an inspection with First Quality and cross this important task off your list.

Keep your roof free of debris. Take a good, 360-degree look at your roof from a second-story window or from ground level with a pair of binoculars. Clumps of branches, leaves, twigs and pine needles can lead to structural decay that will shorten the lifespan of your roof. This element of roof maintenance in Las Vegas can be dangerous for people unaccustomed to navigating the tricky terrain of a roof. Call the professionals at First Quality to sweep and clean your roof for you.
Create a 10-foot "clear zone" of tree limbs. Trees that frame a house can be aesthetically pleasing as long as the branches don't hang over the roof. They can snap off and drop all kind of debris. Branches can also form a "high wire" for squirrels and chipmunks, which like to chew on roof shingles. A professional tree trimmer can help create this clear zone.
Walk around the perimeter of your home and check for shingle granules on the ground. A deteriorating roof "sheds" shingles and this residue often blows onto the ground. Shingle granules or grit also find their way into gutters.

Maintain your gutters. Wash out shingle residue with a hose. While you're face-to-face with your gutters, take good roof maintenance in Las Vegas one step further by ensuring that they're securely attached and in good condition. Gutters are an extension of your roof and when they fall into disrepair, the consequences can lead right back to your attic. For example, if water backs up under the shingles, it can lead to roof decay and water damage in your attic.
Schedule a roof inspection with First Quality. Pair your good eyes with the experienced hands at First Quality and you've got a stellar combination. During our 14-point inspection, we'll focus on the three key components of your roof: the shingles, flashings and gutters. And we'll look closely for any signs of impending leaks. This one step alone could save you thousands in dollars in water damage – money that you could probably use to maintain the many other things around your home that you can clearly see.