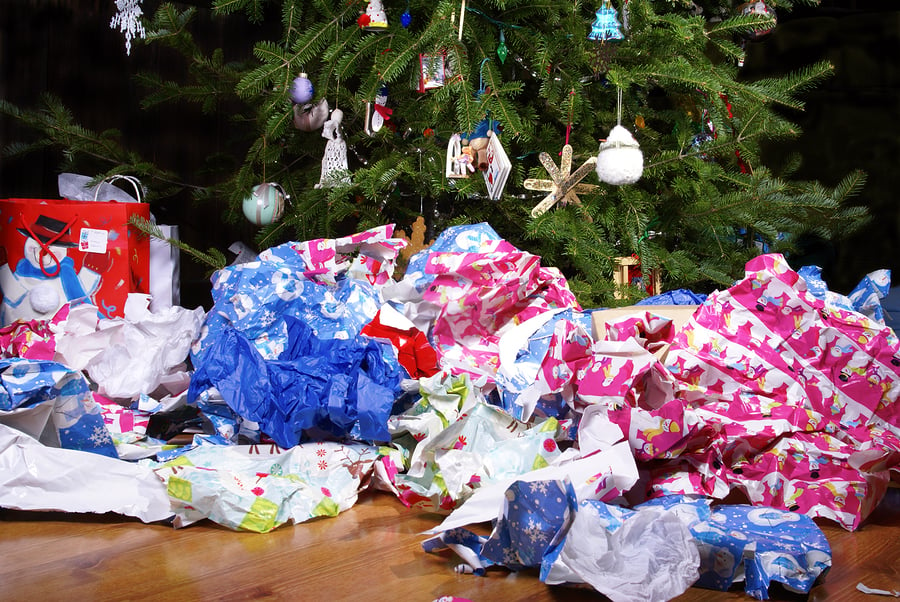 The holidays are known for exchanging presents, cooking and serving large meals, and putting up the Christmas tree. Even though you're busy this time of year, take a little time to recycle what you can. Americans generate about 25% more waste during the season, and 80% of what's thrown away this time of year could be recycled instead. Learning what can be recycled or repurposed can help make for a much more eco-friendly holiday.
The following are some of the holiday items that can and can't be recycled:
Paper and cardboard
Flattened cardboard can be recycled, and so can the cardboard that your present was packaged in. You'll have to remove the cardboard backing and discard the plastic windows first, since this type of plastic isn't recyclable. Newspapers are recyclable, and they can also be repurposed to wrap gifts. Kids in particular enjoy presents wrapped in colorful comics. And when it's time to get rid of all the used holiday wrapping paper, it's recyclable in many towns. One exception is metallic or glitter wrapping paper, so it's best to avoid buying these types.
Metal cans
Most food and drink cans you use for your holiday meals can be recycled if they don't have an insulated coating. You'll need to remove their labels first and clean out any food or drink remaining in the can.
Plastic
Hard plastic containers such as milk jugs and laundry detergent containers can be recycled. So can plastic containers like the ones that hold eggnog. After they're rinsed out, put the plastic lids back on, since they're too small to be recycled by themselves. More flexible plastics like bubble wrap and grocery bags can't be recycled at the curb, although some grocery stores collect bags for recycling. In general, if you can poke your finger through the plastic, it can't be recycled.
Christmas trees
Many towns and counties have drop-off recycling centers that accept live Christmas trees. Some also have special recycling and mulching programs through their department of public works. They'll chip and shred your tree to create mulch.
Electronics
Electronics like computers or phones are popular Christmas gifts, so you may be looking to get rid of your old model. If it's still operational, selling or donating it is always a good option, but if it doesn't, recycle it at a drop-off designed specifically for electronics.
For more holiday tips, check out these posts on First Quality Roofing & Insulation's blog:
Simple Tips for Keeping Your Christmas Decorations Organized
"Playing With Fire" Can Easily Start a Christmas Tree Fire
Dessert Ideas for Your Holiday Spread